---
---

We can help your company improve its M&A knowledge, in particular its ability to conduct the Due Diligence and Post-Merger Integration processes as well as understand the M&A process, logic and risks associated.
Upcoming training events
---
Client challenges
Having the passion and funds to acquire and lack of understanding of the M&A complexity.

Starting an M&A process with no past experience as an organization or individual experience of members of the management team.

Organizations might have some Knowledge about certain M&A aspects but lack knowledge about others
How we can help
We can tailor made training programs to our customers allowing them to learn about the following areas:

The M&A process

The different phases of M&A

Risks and challenges in the M&A process, etc.

We can provide tailor made simulations and M&A games to practise before the real thing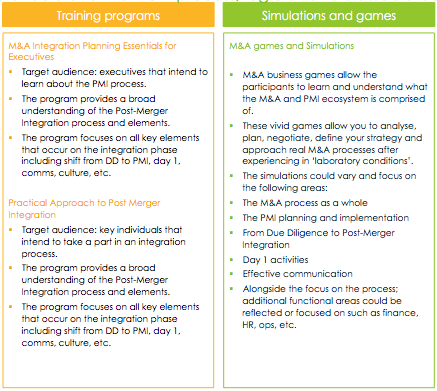 ---
The course includes:
Course materials (paper and electronic format)
8 hours personal coaching in the 90 days following the course
Integration readiness diagnostic tool
Key benefits
Customers can close all M&A related knowledge gaps before jumping to the "deep water".

Simulations and M&A games provide a good experience allowing new "entrants" to get ready.

Customers can reinforce / improve areas where they feel they are weak, not up to date.

These learning and development programs bring exec teams together allowing them quicker start
Lessons learnt
These trainings focus on what is important, therefore build and capture value

Participating in these trainings enhance a common foundation for success

Participating in these programs Incorporate the latest in M&A best practices proven globally thus allowing customers to learn the relevant lessons in variety of industries and geographies.
---
---
---
---