Anbang and Geely: A Tale of Two M&A Shopping Sprees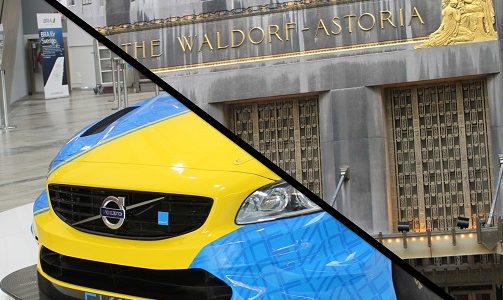 Volvo Car By Andrzej Otrębski (Own work) Waldorf Astoria By Americasroof (Own work) [CC BY-SA 3.0], via Wikimedia Commons
By GPMIP USA Partner, Stefan Hofmeyer developed by Sean Wu and Robert P. Yu 於平
Recently Anbang and Geely, two China based companies that spent big and bold on overseas acquisitions in the past decade, have made headlines again.
Anbang, an insurance conglomerate that experienced dramatic growth and in 2014 bought the iconic Waldorf Astoria New York, was seized by the Chinese government.
Geely, a Chinese auto maker that bought Sweden's Volvo Car Corp in 2010, recently acquired 9.69% of Daimler, and became the largest shareholder in this marquee brand.
Comparing Anbang and Geely
Both companies are top tier, privately owned firms with politically well-connected owners. Both companies followed Chinese government guidance in recent years to "go out", meaning expansion out of China into international markets (see guidance here). Why were these two companies' results so different? One reason stands above others: Acquisition and Integration Strategy.
Anbang's Fall From Grace
Anbang's acquisitions, as an insurance company, were mostly a hodgepodge of real estate assets: office space in Europe, high-end hotels in US and Canada: San Francisco's Westin St. Francis, JW Marriott Essex House in New York and the InterContinental Chicago. The crown jewel of their portfolio is of course the Waldorf Astoria New York, which Anbang paid $1.95 billion in February 2015.
Anbang's plan for the Waldorf Astoria: convert it to a high-end condo complex, essentially making Anbang a real estate developer and speculator in New York City. Their acquisition approach followed a traditional trend of Chinese companies buying prestige name brands comprised of tangible property with limited opportunity for cost and revenue synergies. (Learn More: Stefan Hofmeyer January 2016 Beijing Speech Key Success Factors for Cross-Border M&A 跨国并购的关键成功要素)
The corporate strategy Anbang pursued placed them at risk when the Chinese government's investment guidance changed and Anbang's funding sources evaporated.
Success for Geely
Geely, on the other hand, is a success story. This is largely due to Geely's acquisition strategy and integration plan involving realization of synergies.
From the company's start, Geely had the ambition to dominate the domestic China car market with the added desire to become an international automotive player. As opportunity availed itself after the 2008 financial crisis, Geely bought then struggling Volvo Cars from Ford in 2010. Geely wanted Volvo's brand name, access to the European market, and technology and manufacturing know-how. Geely also aimed to open up the vast China market for Volvo and lower its cost through sharing parts.
With this strategy, Geely methodically proceeded through its integration plan. They injected funds into Volvo to enable it, revamping old and developing new models and they opened an R&D center in Sweden where Geely and Volvo engineers worked side by side. Volvo now is to share a factory in China with parent Geely, the first time that Chinese and foreign marques brand will be made on the same mainland production line. As a result, Volvo improved its business and started to build new models that have won raving reviews. Geely and Volvo are now in the process of developing competitive electric cars for both the European and Chinese market.
The lesson from these two shopping sprees? Integration strategy and execution is an ingredient for success.
Interested in the competency of international post merger integration (PMI) or acquisition integration? Read the book Cross-border Mergers and Acquisitions published by Wiley and co-written by the Global PMI Partners team. Currently published in English and soon to be available in Chinese language.
What are your thoughts on the lessons from these two shopping sprees? Comment and "Like" this post on LinkedIn by clicking here.
About Global PMI Partners
Global PMI Partners is the only global consultancy firm focused exclusively on merger integration and carve-out services. With offices across the US, Europe and Asia, Global PMI supports both private equity as well as corporate acquirers.
Interested in learning more about Global PMI Partners? Join us, join our network, or join our mailing list.
Logged in as GPMIP. Edit your profile. Log out? Required fields are marked *
Comment *