Cross-Border Mergers and Acquisitions
The complete package for flawless execution of cross-border M&A
Cross-border mergers and acquisitions (M&A) can be one of the most intense and chaotic periods a company will ever experience. Finally, mindful executives have a practical guide to execute mergers and acquisitions in the reality of today's diverse global economy—Cross-Border Mergers and Acquisitions.
In this anticipated follow-up to Mergers and Acquisitions Integration Handbook, distinguished M&A expert Scott Whitaker delivers his popular brand of solid, actionable guidance to the complex process of cross-border M&A.
Scott brings together ten leading experts representing the nine countries where the majority of global M&A activity occurs, who have collectively managed several hundred M&A transactions across dozens of industries. The expert contributors examine mission-critical topics, such as cross-border strategy & deal planning, culture & leadership alignment, integration planning and execution, and unique cross-border M&A transaction scenarios including carve-outs and divestitures.
---
---
View on Wiley.com (Book Publisher)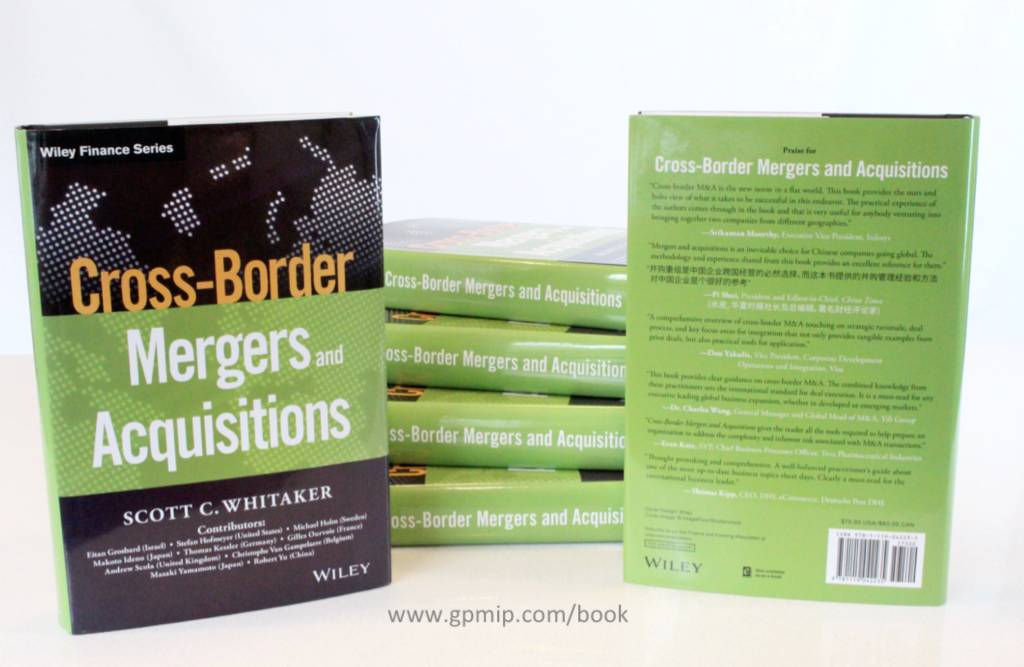 ---
Learn more about the chapters from the authors:
---
Part I: Cross-Border Strategy and Deal Planning
This part provides some insights into the overall dynamics of the global M&A environment, along with some perspectives on region- and country-specific trends and nuances.
Chapter 1, "Cross-Border Deal Evolution and Rationale," presents an overview of the evolution and rationale of cross-border deals, along with some general information on the overall M&A market—sizing of the current market, international development, existence of cycles, determinants of the M&A waves as an introduction to cross-border M&A evolution, and high-level specificities.
Chapter 2, "Cross-Border M&A Strategy and Deal Planning Essentials," explores decision-making and strategic process approaches for managing cross-border integration activity.
Chapter 3, "Legal, Financial, Social, and Political Interdependencies with Cross-Border Integration," introduces the key legal, financial, social, and political influences on, and implications of, cross-border mergers, acquisitions, and divestitures. It puts cross-border M&A programs in context within and between the jurisdictions and societies where the companies operate.
Chapter 4, "Trends and Leading Practices in Global M&A," introduces important concepts related to strategic reasoning for doing the deal, along with the key phases and steps in the M&A life cycle. This chapter includes a step-by-step process that enables you to find and review potential targets for their fit, and introduces important issues related to cross-border due diligence, along with options and strategies for mitigating the execution risk in cross-border deals.
Chapter 5, "Cross-Border M&A: Region- and Country-Specific Trends and Deal Planning Tips," delves into the countries and industries that dominate pre-deal M&A and what considerations are important when exploring cross-border opportunities.
Part II: Cross-Border Culture and Leadership Alignment
This part includes several chapters that explore how leadership and culture influence cross-border M&A.
Chapter 6, "Leading during Cross-Border M&A," attempts to outline specific activities and practices leaders can take during an M&A event to help ensure transaction success and lay the foundation to make integration a core competency of their organizations.
Chapter 7, "The Role of Culture in Cross-Border M&A," explains the importance of culture in a merger or integration environment, and shows how to create awareness of cultural elements in both the deal teams and integration teams. The importance of company values and local language in turning culture into a success driver for your deal is also explored.
Chapter 8, "Managing National Reactions and Sovereignty Issues," explores the "local" side of cross-border M&A and how region- and country-specific nuances such as regulatory constraints, sensitivities of local populations, unions, and many other areas can impact transactions.
Part III: Cross-Border Integration, Planning, and Execution
This part includes an abundance of detail around the more tactical elements of cross-border integration, along with how country-specific nuances can impact planning and execution details.
Chapter 9, "Managing Pre-PMI Due Diligence," presents a methodical approach for cross-border due diligence based on lessons learned from hands-on project engagements, including a practical review of the due diligence process, and ingredients and tools to be applied in order to improve the quality of due diligence deliverables.
Chapter 10, "Ramping Up an Integration Management Office and Day One in Cross-Border Deals," provides a comprehensive understanding of the integration management office and describes activity to set up an IMO and to execute a successful Day One.
Chapter 11, "Integration Decision Making and Process Strategy in Cross-Border Deals," reviews the important factors that drive cross-border M&A success, including leadership styles and related decision-making and process development and change approaches.
Chapter 12, "Post-Merger Integration Process, Methodologies, and Tools," explores a multitude of integration planning and execution essentials across all phases of the M&A life cycle.
Chapter 13, "Managing Post-Merger Integration Globally," outlines various approaches for managing a PMI process in a cross-border scenario. This chapter also explores PMI governance concepts, managerial structure, roles and responsibilities, meeting management routines, and communications.
Chapter 14, "Country-Specific Trends and Tips for Integration Planning," outlines proven approaches for factoring cultures and work styles in cross-border integrations. The chapter also includes cultural tips and hints for the top three M&A countries along with key integration topics by region.
Chapter 15, "M&A and Post-Merger Integration Considerations for China and Japan," reviews the current trends and issues involving both inbound investment into China and Japan by foreign companies and outbound investment from China and Japan. It describes the motivations behind the inbound and outbound investments, and points out the critical issues that have significant impact on the success or failure of M&A projects in these countries.
Chapter 16, "Cross-Border Synergy Program Management," explores what to look for in cross-border deal synergies, and how to validate them during pre-deal planning. The chapter also explores how to structure a synergy program and track synergies until realized.
Part IV: Unique Cross-Border M&A Transaction Scenarios
This brief part provides insight into some unique transaction scenarios and situations.
Chapter 17, "Managing Carve-Outs and Transition Service Agreements," describes what divestitures are, how they differ from integrations, and what the end state of a carve-out can look like. It goes on to describe the key contract associated with carve-outs, the transition service agreement, how it is structured, managed, and exited successfully.
Chapter 18, "Joint Ventures," explores some additional considerations on how to plan, structure, and execute joint venture agreements.
The topics chosen are intended to cover the most common planning- and execution-related elements of M&A transactions. I have also attempted to include a range of perspectives on region- and country-specific considerations to help readers appreciate the complexities associated with cross-border transactions.
Now available
---
"Cross-border M&A is the new norm in a globalized world. This book provides the nuts and bolts view of what it takes to be successful in this endeavor. The practical experience of the authors comes through in the book and that is very useful for anybody venturing into bringing together two companies from different geographies"
— Srikantan Moorthy, EVP, Head of Global Services, Infosys
"Mergers and acquisitions is an inevitable choice for Chinese companies going global. The methodology and experience shared from this book provides an excellent reference for them."
— Mr. Pi Shui, President and Editor-in-Chief, China Times
"A comprehensive overview of Cross-Border M&A touching on strategic rationale, deal process and key focus areas for integration that not only provided tangible examples from prior deals, but practical tools for application."
— Don Yakulis, VP of Corporate Development, Visa
"This book provides clear guidance on Cross-Border M&A. The combined knowledge from these practitioners sets the international standard for deal execution. It is a must read for any executive leading global business expansion, no matter in developed or emerging market."
— Dr. Charles Wang, General Manager and Global Head of M&A, Yili Group
"Cross-Border Mergers & Acquisitions gives the reader all the tools required to help prepare an organization to address the complexity and inherent risk associated with M&A transactions."
— Eran Katz, SVP, Chief Business Processes Officer, Teva Pharmaceutical industries
"Thought provoking and comprehensive. A well balanced practitioners guide about one of the most up to date business topics these days. Clearly a must read for the international business leader."
— Thomas Kipp, CEO DHL eCommerce, Deutsche Post DHL
"The compilations of 10 contributors provide the holistic view of the art and science of integration with a continual focus on strategy alignment and drive for accretive value—remarkably overlooked and misunderstood by many IMO practitioners."
— Jonathan E. Bunce, Senior Director, M&A Integration, Intel
"The reader will find many decades of hands-on cross-cultural leadership synthetized in practical concepts. The authors splendidly combine a holistic depiction with great depth on the critical topics. A must-read if you play any relevant role in a cross-border M&A or PMI."
— Helio A. Castano, Vice President, Administration and Integration, Bar-S Foods
"Most recent books about M&A focus on the need to ensure that the integration is based on the objectives and value drivers of the acquisition. In this book, Whitaker takes this approach a step further by applying a crossborder lens. The result is both a good read and a great reference book for the M&A practitioner."
— Pat Belotti, Director of Corporate Development Integration, DocuSign
"A rich database for everyone involved in cross-border M&As; in many cases a 'must' in today's world with globally distributed value chains. The combination of both breadth and depth in one context will attract both professional managers and readers in search of knowledge in this area for the first time."
— Arne Karlsson, Departing Chairman and Former CEO, Ratos
"Given my role at an M&A software company, I have read a library of M&A books. Cross-Border Mergers and Acquisitions easily rises to the must-read category for M&A practitioners at all levels. The material covers all topics comprehensively, makes complex situations easily understandable, and provides actionable advice to planning and executing global deals."
— Ari J. Salonen, PhD, President, Midaxo
"Cross-Border Mergers and Acquisitions provides the reader with practical, experience-based execution guidance in a complex area that is fraught with many value-destroying pitfalls. It's critical for M&A practitioners to understand the complexity and the cultural differences that are foundational to cross-border work. Without this understanding, value and synergy realization will be elusive."
— Janet Phillips, Senior Director, M&A Integration, Symantec, Inc.
"Cross-border mergers and acquisitions are among the very few strategic moves that can change the competitive position of a company almost overnight. This book provides a unique and comprehensive perspective on how cross-border M&As must be prepared, executed, and managed over the long run. It is a must-read for executives, consultants, and students interested in the topic."
— Bernard Garrette, Professor of Strategy and MBA Associate Dean, HEC Paris
"China's cross-border M&A thrives in recent years as the result of great success in economic growth. Besides sustained enthusiasm of inbound investments, capital-rich Chinese investors are increasingly interested in overseas valuable assets, not only in order to acquire natural resources or market entry but also to fulfill the capability gaps in technologies, management, and so on. I find that this book provides comprehensive and practical knowledge in cross-border M&A and believe that it could be helpful for those emerging Chinese players and their global counterparts."— Yi Bao, CEO, Morgan Stanley Huaxin Securities, and Managing Director, Morgan Stanley