---
Aviator EU acquisition of Servisair & Swissport

"We worked with 4 specialists from Global PMI Partners. From day one, the team brought focus and support to the management team. The goal was to do the PMI in 6 months, which was successfully completed."
— Paul Synnott, CEO, Aviator EU
---
---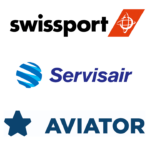 ---
Global PMI Partners lead the integration of parts of Servisair Air & Swissport into Aviator EU, managing the Integration management office and leading value creation/synergy in 13 work-streams.
Day One and leading the integration and implementation six months with four PMI consultants
Setup project with 13 work-streams – must-do integration activities, facilitated the identification of short-term revenue and quick wins and advised on long-term business integration and strategic roadmap. DISC, Interviews & Management Team workshop
Managed the integration management office, set up integration project, workshop, work-streams, managed the kick-off and leading the communication work-stream and finance work-stream
Lead value creation/synergy analysis and workshops resulting in activities to capture revenue synergies
Reported to Steering Committee on integration progress and governance
Reached all the agreed goals with Aviator time-wise, financial targets and HR targets etc.
"I did not decide to bring in Global PMI Partners – that decision was already taken. My first thought was not positive. We had worked with other consultants with limited success. But these consultants became very quickly part of the Management team and we could not have done this without them."
— Debbie Westlake, MD, Aviator UK
---
---
Sector/s
Transportation
Services Delivered
M&A Integration
Countries Involved
United Kingdom
Sweden