Simplify & mobilize your Integration Management Office (IMO)
Built for M&A Integration Management and informed by the experience from over 325 transactions, IMO MobilizationSM is a comprehensive platform to help clients plan and execute all facets of M&A transactions, whether they are acquisition integrations, platform add-ons,  carve-outs, or internal integration capability builds.
→ Rapid Internal Deployment

→ Accelerated Integration Timeframe

→ Minimal Business Disruption

→ Synergy Realization

→ Employee & Customer Engagement

→ Internal Capability Enhancement
Click above to watch or view on YouTube
---
Global PMI Partners designed IMO MobilizationSM to simplify the process of merger & acquisition (M&A) integration. By leveraging our experience and know-how, we have created a platform that enables acquirers to achieve integration success, and avoid the most common pitfalls and mistakes. This webinar will share planning & execution highlights applicable to most acquisition scenarios.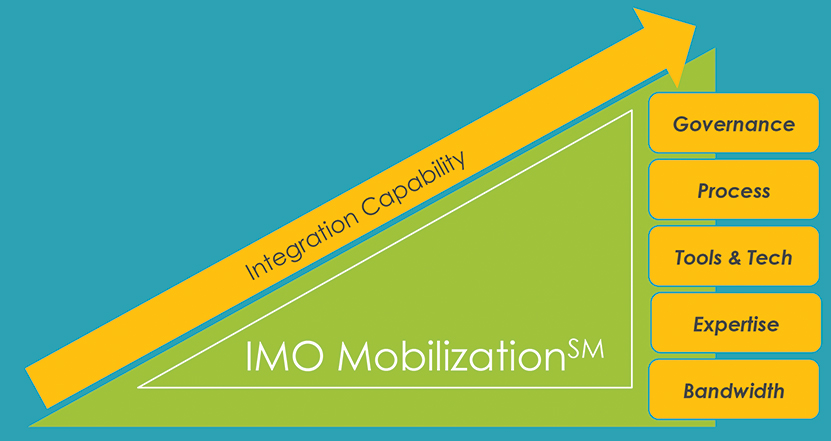 –What our clients are saying about IMO MobilizationSM –
"IMO Mobilization enabled us to understand the integration process and how we could successfully manage through it"
"Global PMI Partners takes a very complex process and distills it down into manageable chunks… their experience comes thru every time we use them"
"The planning process enables us to pivot quickly into execution mode post close… I felt like we never missed a beat and got a lot of work completed ahead of schedule"
"The tracking and reporting rigor ensured accountability was with the integration leaders (where it needed to be)…. progress updates were value added time well spent and not endless explorations of workplans and detail"
"The day 1 communications preparation was incredible, and we are still getting points today from acquired employees who appreciated how prepared we were"
"We had them create an IMO Mobilization playbook that we still use today"