Building Effective Playbook Solutions to Support M&A Activities
by GPMIP Partner, Scott Whitaker
Integration playbooks sound great, but seldom are.
Many of the playbooks I see are simply collections of templates and artifacts from previous integrations. Some steps and outputs may be documented, but they are often out of sequence and confusing to anyone trying to leverage the playbook to inform their integration planning.
While I applaud anyone trying to better organize the complex task of integration, a poorly executed playbook can often confuse more than help.
Here are some guidelines to help create a robust and adoptable playbook for your organization.
A comprehensive playbook solution should achieve the following basic objectives:
Provide a methodology that ensures value capture and the achievement of integration and synergy objectives
Facilitates a structured approach and methodology to integrate newly acquired companies
Ensures consistency and standardization across integration teams
Maximizes efficiency by leveraging proven processes and tools/templates
Flexibility to accommodate varying transaction sizes and levels of complexity
Easy to train and implement to facilitate knowledge transfer
Takes the guesswork out of integration planning & execution
Transform a complex activity into an easy to manage process with defined phases, steps and deliverables
Provide battle tested tools & templates to accelerate the completion of key deliverables
Provide an intuitive platform for training
Well designed and architected playbooks can also help with the following:
Connect corporate development processes to integration planning processes
Specify who needs to be involved and when
Anticipate and document key decision needs required in each phase
Document anticipated risks and issues requiring action
Provide parameters to ensure Day 1 readiness
Outline processes and steps for unique M&A scenarios (e.g. carve-outs)
Provide clear rules of engagement and protocols for managing sensitive information
Simplicity: Good playbooks aren't over engineered. Focus on basic needs first and layer in complexity as needed
Driving Adoption
The key to a successful implementation of a playbook solution is adoption. Leaders need to see the value immediately, and embrace the process. Assume you need to "sell" your leadership team on using the playbook!
Key steps here include:
Connect the playbook value and benefits directly to helping achieve the integration objectives
Highlight efficiency gains that can be leveraged via playbook usage
Design a robust training and knowledge transfer plan to facilitate implementation
Ongoing Optimization
Don't let your playbook become static and inflexible! Playbooks are living articulations of a defined process and need to be updated and optimized near the conclusion of your integration.
Key steps here include:
Create an internal sharepoint for the corporate playbook to avoid version control headaches
Conduct after action interviews with integration team members to collect feedback that can be used to optimize playbook steps, deliverables, tools and templates
Make sure the sharepoint site includes all of the tools, templates, and work product samples so they can be accessed by new teams when needed-avoid recreating the wheel for each integration!
Playbook should be flexible and adaptable for specific requirements
Applicable to all acquisition scenarios (bolt-on, platform consolidations, adjacent market acquisitions, vertical integrations etc.)
Deployable across multiple concurrent transactions and geographies
Ability to select and/or deselect the specific process steps and supporting tools/templates they need based on the size and complexity of their transaction (i.e. not all playbook process steps may be required for certain transactions)
Comprehensive Playbook Solutions
Dynamic playbook solution covers integration planning and execution process, tools & templates, program management support and training.
Playbook Contents
The playbook solutions we architect at Global PMI Partners for our clients include the following common elements:
Playbook Overview:
Essentially the "user's guide" for playbook application with details on purpose, use, activation steps, contents, administration details, training and links to all materials (which as mentioned are typically located on an internal sharepoint).
Glossary:
M&A and integrations generate a lot of terms and acronyms…and don't assume everyone knows what they mean. To assist with training and general convenience we always include a glossary of terms and explanations of key playbook elements.
Diligence Priorities:
This section includes key data requirements to inform integration planning (not to be confused with pre-deal financial diligence). This section includes data needs to inform more detailed integration plan development for corporate functions like HR, IT, S&M etc.
Phasing:
The playbook includes detailed phase modules covering pre-close thru end state for the most typical integration scenarios. Our most common solutions includes Five Phases outlined below (we do customize phasing to meet unique client specifications as well)
Pre-Deal: Phase when potential target(s) are in discussions with corporate development and deal is activated (likelihood of deal is greater than 50% and an LOI and PA are active
Integration Planning: Phase when the bulk of the preparation required to fully engage and mobilizing an IMO (Integration management Office) is completed
IMO Mobilization: The Mobilization phase is where the extended functional leads are engaged and the comprehensive integration and Day plans are developed
Execution: The execution phase encompasses delivery of activities that have been pre-planned and mobilized, and also includes monitoring and controlling activities driven by the Integration Management Office.
Optimization & Close: The Optimization and Close phase occurs across all phases provide input on integration execution and to complete all administration tasks at the end of the integration project.
Involvement by Phase:
This section details who needs to be involved at each stage which helps prevent:
Engaging people too early before there's meaningful work to do
Specifying who needs to be involved to prevent overstaffing (we find people generally want to be part of the integration team…but don't need to. You need most people focused on the day to day business, so making some clear lines here is important.)
Considerations:
Each phase includes a "Considerations" section where we include application and best practices tips to help facilitate knowledge transfer and to assist with training.
We include common "watch outs" and lessons learned to help navigate the nuances of sound integration management and execution.
Below are some visual examples from a typical playbook solution (note this is a sample from a custom solution and may not represent your integration requirements)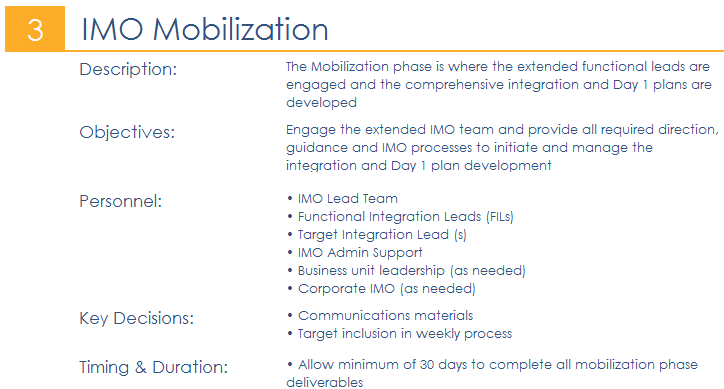 Phase Details: Here's a sample of phase detail for mobilization detailing each phase's description, objectives, personnel, key decisions ad timing & duration guidance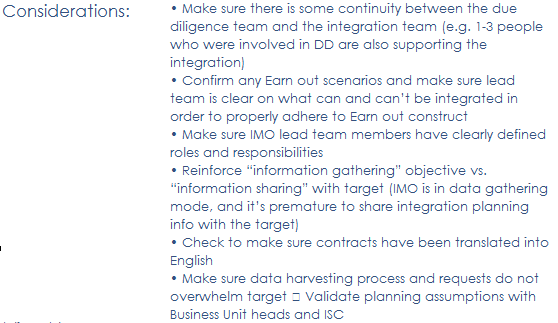 Considerations: A sample of best practice and lessons learned highlight for the Integration Planning Phase

Step by Step Detail: Below is a snapshot of just a few steps of the IMO Mobilization phase. This part of the playbook is the most detailed, prescriptive and customized with dozens of steps.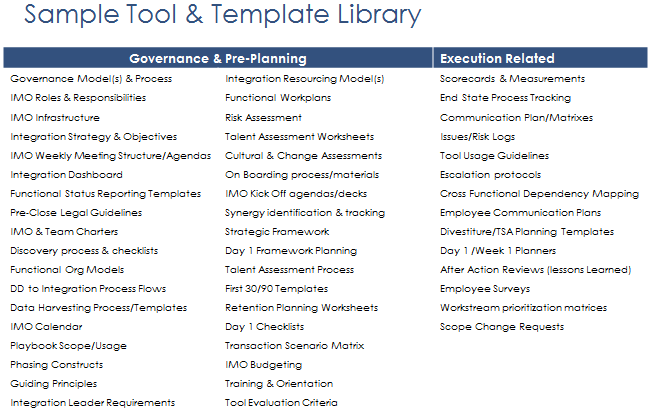 Tool & Templates: The average integration will produce dozens, if not hundreds of templates and artifacts. The exhibit below shows a sample of tools, templates and artifacts from an integration that will be housed on a sharepoint
For frequent acquirers, playbook applications offer a method to standardize a very complex task consistently across an organization. Business leaders tasked with leading an integration will find playbooks integral to achieving integration objectives and driving successful execution.