---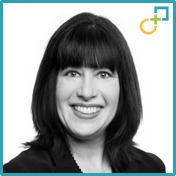 Jennifer Cyra​
Senior Executive Advisor
USA
---
People profiles
Jennifer Cyra​

---
---
Professional Background
Jennifer is a global advisor in the digital,

retail and consumer goods industries

with experience in product, sales and

marketing.  Her M&A work includes

synergy capture through sales strategy,

contract and supplier harmonization

and organizational design.

​

Jennifer was previously Senior VP,

omnichannel commerce for

OfficeMax/Office Depot, overseeing

product, sales and marketing functions

for the digital, retail and B2B channels. 

She also led digital and retail businesses

for apparel at Sears Holdings and

began her career at Marshall Field's.

​

Jennifer is a graduate of the University

of Wisconsin-Madison and a Board of

Visitors member since 2018. She is a

member of International Women's

Forum and currently serves on the Board

for IWF Chicago.  

​
M&A Skills & Expertise
Seasoned senior executive leader and

advisor for omnichannel commerce in

digital, retail and consumer goods

wholesale channels.  

​

Experienced leader of strategic initiatives

related to M&A synergy capture; delivered

over $150 million related to cost of goods

savings and organizational structure design

in the US, Canada and Europe. 

​

P&L accountability for businesses ranging

from $2 billion to $6 billion.  

​

Industry experience includes senior

executive roles responsible for sales for

digital, retail and B2B, product, process

design, organizational design, digital

transformation, and marketing,

​

Led private brand development and Asia-

based global sourcing operations with $120

million in shipments

​
Project Highlights
Digital:  Office Depot, Office Max, Office Depot

Europe, Viking Europe, Grand & Toy Canada,

Sears Holdings, Boomerang Commerce,

QmodoAI, PRGX Global, Talkbox, Muscle Care,

Lee London, Skillsetz

​

Retail: Office Depot, Office Max, Grand & Toy

Canada, Sears Holdings, Marshall Field's,

QmodoAI

, PRGX Global, Chicago Tribune

​

Consumer Goods Wholesale: Office Depot, Office

Max, Office Depot Europe, Viking Europe, Grand

& Toy Canada, Talkbox, Musclecare, Lee London

​

M&A Integration:  Office Depot, Office Max,

Office Depot Europe, Viking Europe, Grand & Toy

Canada, Sears Holdings, Kmart

​

Education & Training: Loyola University of

Chicago, National Organization of Productivity

and Organizing Professionals, National Diversity

Council

​