---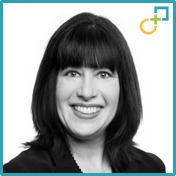 Jennifer Cyra​
Senior Executive Advisor
USA
---
People profiles
Jennifer Cyra​

---
---
Professional Background
Jennifer is a global advisor in the

consumer products and services

industry.  Her M&A work includes

process & workstream integration,

organizational design, and synergy

capture through sales strategy and

contract and supplier harmonization.

​

Jennifer served as SVP, Integration

Strategic Initiatives for OfficeMax/Office

Depot, overseeing projects related to

process harmonization and synergy

capture.  Prior to that she was SVP

Omni-channel commerce, overseeing

product strategy for all sales channels. 

She also led digital and retail businesses

for apparel at Sears Holdings and

began her career at Marshall Field's.

​

Jennifer is a graduate of the University

of Wisconsin-Madison and a Board of

Visitors member. She is a member of

International Women's Forum and

Secretary of the Board for IWF Chicago.  

​
M&A Skills & Expertise
Seasoned senior executive leader and

advisor for post-merger integration and

commerce growth in the consumer

products and services industry.

​

Experienced leader of strategic initiatives

related to M&A synergy capture; delivered

over $150 million related to cost of goods

savings and organizational structure design

in the US, Canada and Europe. 

​

P&L accountability for businesses ranging

from $2 billion to $6 billion.  

​

Industry experience includes senior

executive roles responsible for sales,

product, process design, organizational

design, strategic vendor management,

contracts, digital transformation and

marketing.

​

Led private brand development and Asia-

based global sourcing operations with $120

million in shipments

​
Project Highlights
M&A Integration:  Office Depot, Office Max,

Office Depot Europe, Viking Europe, Grand & Toy

Canada, Sears Holdings, Kmart

​

Consumer Goods & Services Wholesale: Office

Depot, Office Max, Office Depot Europe, Viking

Europe, Grand & Toy Canada, Talkbox,

Musclecare, Lee London

​

Direct to Consumer : Office Depot, Office Max,

Office Depot Europe, Viking Europe, Grand & Toy

Canada, Sears Holdings, Marshall Field's,

QmodoAI, PRGX Global, Talkbox, Muscle Care,

Lee London, Skillsetz, Chicago Tribune

​

Education & Training: Loyola University of

Chicago, National Organization of Productivity

and Organizing Professionals, National Diversity

Council

​