Post-merger integration success criteria: Health Check Reviews
By Chris Charlton, UK Partner at Global PMI Partners
---
Many of us have been faced with a multitude of scenarios that require us to give feedback to Executive teams about how to ensure our integration programmes are set up for success, continuously delivering expected results:
Is our post-acquisition integration plan realistic and achievable?
Are we following post-merger integration best practices?
How do we know we are managing our integration effectively and efficiently?
What level of integration risk do we have? How does this compare to other integrations?
How likely are we to deliver our integration objectives and synergies? Are we on track?
How do we prioritise actions to improve our chances of success; and how do we argue for the resources we need?
These are all typical examples of the questions we get asked and it is very helpful to have a reliable and consistent framework to answer such questions with confidence. We know from our experience, supported by much of the research, that delivering the expected value of a deal can be much harder than doing the deal itself. So, how do we make sure we can do this?
M&A Healthchecks
Programme assurance reviews, more usually known as healthchecks, are a good way to give Executive Sponsors and Programme Leaders an independent readout on the state of your integration. This is a best practice for any type of major programme, including integrations. They rely on a short, sharp assessment by an experienced practitioner, which culminates in a set of recommendations and prioritised actions to increase the chance of a programme delivering success.
A great practitioner should be able to achieve this within 3-7 days, depending on the complexity of your integration. There are usually 3 types of reviews, aligned to where you are with your integration:
Initiation: you are mobilising your integration programme – is it set up for success?
In-flight: you are through transaction close and into execution – will it actually deliver what you hope, or are there significant roadblocks to success?
Finishing: has it delivered, and what are the key lessons to be fed into the next one?
Healthcheck Reviews cover all stakeholder interests in the programme, including business, customer and supplier needs, and includes verifying that your programme:
fits with the overall corporate strategy and remains viable;
focus on the business need is maintained with realistic and achievable deliverables and benefits;
stakeholders are being involved and business needs and expectations are being met or managed;
skills and resources are appropriately deployed and managed;
risks and issues are being actively managed; and
solutions are acceptable in operational terms.
Our framework and associated tools for rapid healthcheck reviews are based on our experience of hundreds of integration programmes, as well as other types of complex delivery, such as business transformation. At GPMIP, our framework assesses the state of play across the six key themes that usually make the difference between success and failure: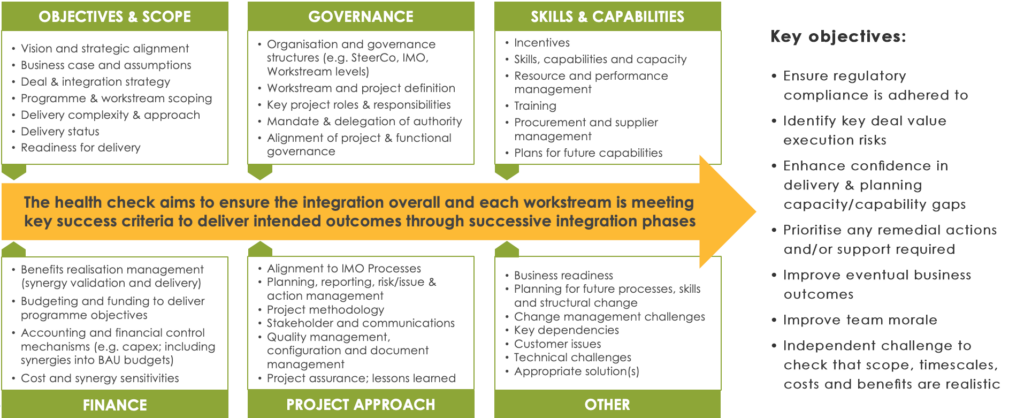 Underlying this framework is a detailed questionnaire that is used when interviewing key integration programme stakeholders. This is combined with a desktop review of all available integration documentation, from due diligence reports to integration plans, business case, programme definition and delivery control information. The experience of the reviewer will distil that information into a prioritised set of recommendations, based on best practice, deep experience of other integration programmes and the key drivers of integration success.
Common key success criteria include:
Clear senior management ownership and leadership;
Appropriate skills and culture for the programme and workstream teams;
Clear roles and responsibilities, with sufficient bandwidth and capacity to deliver;
Effective planning, financial and project control;
Clear links with the organisation's strategic priorities;
Effective benefits, risk and business change management;
Sound commercial knowledge of the supplier marketplace, linked to the requirement, and management of supplier(s) over the contract term;
Sustained involvement of all key stakeholders throughout the programme;
Breaking design and implementation into manageable stages; and
Effective project team integration between customers, functions and the supply chain.
We all know that the vast majority of the underlying reasons for programmes struggling to deliver their anticipated results are people-related; and these are generally one of two types:
Insufficient capabilities and/or capacity in execution ("We've done the deal, it'll just happen, right?" Wrong. Delivering the value is far, far harder than doing the deal.)
Issues related to leadership, politics, incentivisation, retention, co-ordination, clarity of roles and loss of focus on business as usual. This is linked to the capacity of key leaders and managers to deal with running the business and involvement in the integration programme.
One tool, which we have found to be particularly valuable when setting up or assessing the health of an integration programme is our integration complexity analysis. We all know that financial scale is not a reliable indicator of 'how difficult' an integration will be to deliver, so it is important to look at a much broader range of factors. The tool can be used as part of a healthcheck, or standalone, when mobilising your programme team.
Complexity Analysis Factors and Sample Results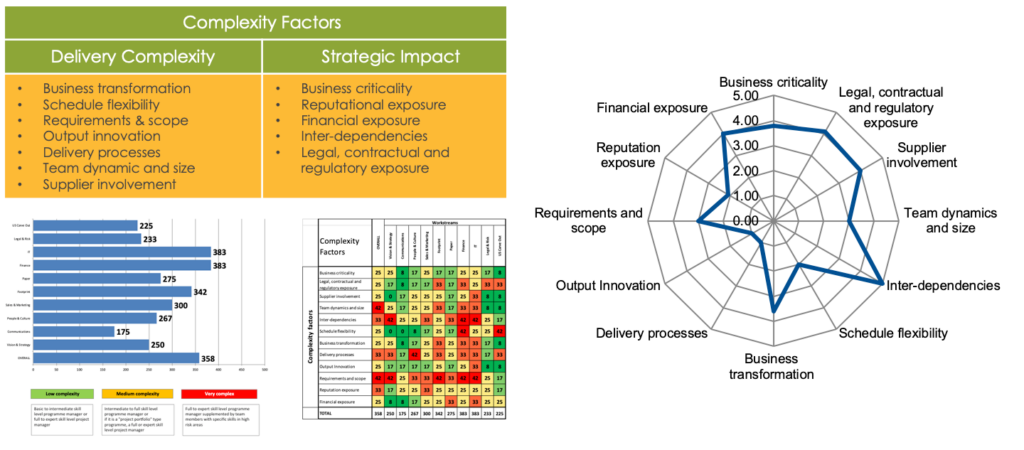 The complexity tool is designed to promote team discussion to quickly compare and highlight the relative complexity and risk inherent in your post-merger or acquisition integration. It allows comparison across entire integration programmes and/or each of the workstreams of an individual integration. This analysis also provides a reliable assessment of the level of skill and capabilities required to deliver a workstream, as the weighting and scoring within it is based on the experience of hundreds of programmes.
The value of these types of analyses and the actions they drive is, of course, wholly dependent upon the deep experience of the reviewer/review team, working in collaboration with the team driving the work under review.
The ability to conduct robust healthcheck reviews is a critical capability for in-house M&A teams, either using your central integration team and/or external reviewers.
The primary benefits of such reviews include:
Providing independent and objective verification on the health of a programme and the degree to which the programme is on track;
Helping reduce likelihood of failure through the identification of ineffective processes, controls and risks to delivery;
Providing a clear, prioritised checklist of areas for improvement;
Addressing the need to demonstrate effective control and risk management both internally and externally;
Providing accurate and detailed reporting which is not subject to internal bias for over-optimism; and
Onward integration requirements identified, such as capability building or programme turnaround.
How healthy is your IMO?
Any integration programme, spearheaded by an Integration Management Office (IMO), should be primarily focused on the identification and delivery of value, and to ensure the new, combined business is set up for success from Day 1. Joint incentivisation & handover from deal team to integration team is key.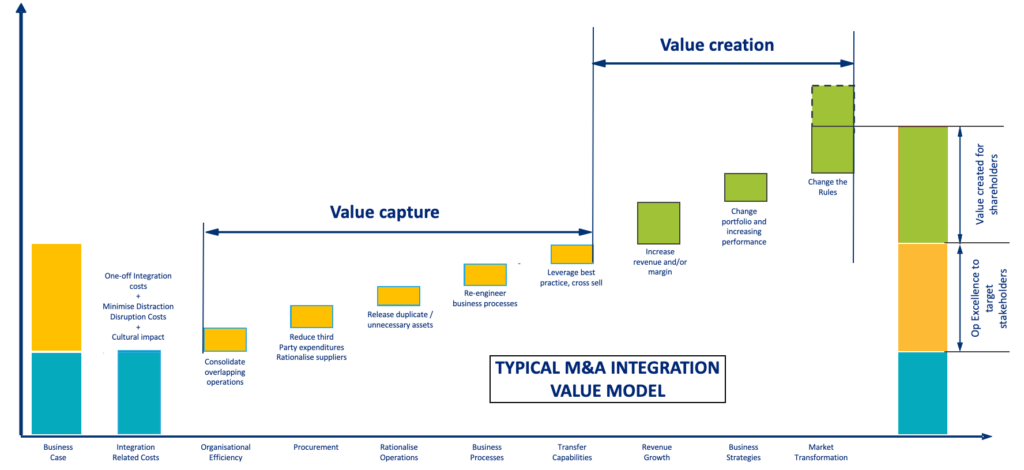 The aims of your IMO should be to ensure that:
Workstreams & projects are continuously prioritised according to expected synergies and cost to realise, but also complexity, risk, and available capabilities to deliver in order to optimise return on project investments;
Workstreams & projects are set up for success from the start and have clear ownership, accountability, capability & capacity;
Quantifiable benefits are delivered through well planned and high-performance project execution to ensure that synergies and other key deliverables are linked to KPI's and operational milestones; as well as Integrated into the organisation's financial and performance measurement processes;
Projects are consolidated into an overall master plan that facilitates synchronisation across workstreams/projects in terms of impact, delivery timing and resourcing; with clear, concise Exec reports;
Governance at all levels is appropriate for the complexity being managed at each level, as well as integrated within existing line management governance and wider change initiatives;
All IMO processes and services remove, rather than add duplication; and drive efficiencies in delivery. The focus should be on the content, rather than format.
The IMO needs to be fully execution-ready by Close.
"High-performing PMOs are proactive "
Clearly, weak PMOs that are purely reactive, process and function driven, are not going to provide your integration programme with the capability it needs. High-performing PMOs are proactive, value-focused, engender continuous improvement, and should be integrated with business governance to enable strategic decision making and risk management.
IMOs have to go even further, in particular to be able to:
Own responsibility for driving the integration programme – the 'engine';
Drive an extremely intense, fast pace of integrated planning, reporting and interdependency management;
Deliver significant challenge and support to the workstreams;
Enable rapid executive decision making; and
Generate and own an additional toolset of products on behalf of the Integration Programme, for example:

Day 1 checklists and ongoing plans
Integration strategy and future operating model blueprint
Workstream charters and checklists
Transitional Service Agreements
To conclude, it is fair to say that high quality healthchecks conducted by highly experienced integration practitioners can give you much greater confidence that you will deliver the value you hope to. This is essential to allow business leaders to remain focused on continuing to run a successful combined business, both during and after the integration.
Here are some final key lessons and success factors based on this collective wisdom of many hundreds of programmes: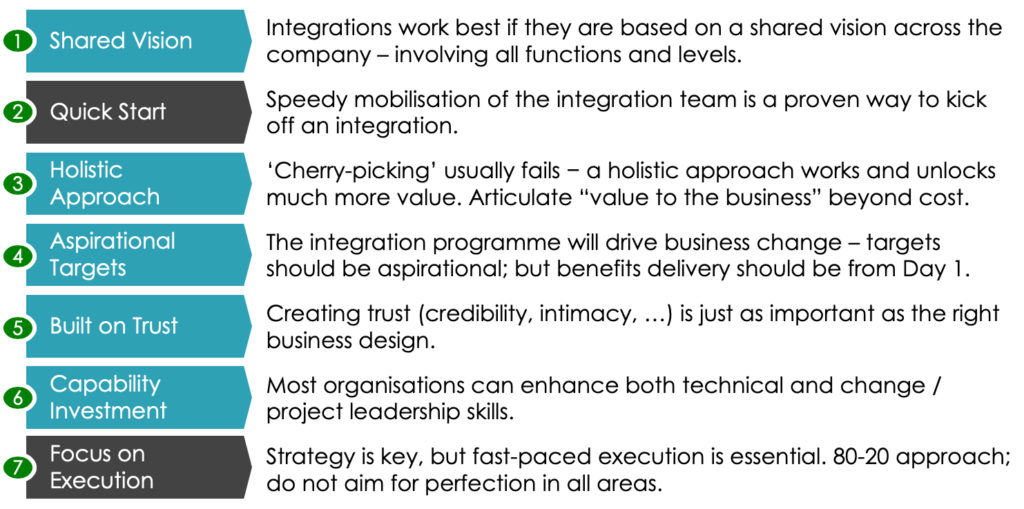 I wish you every success with your post-merger or acquisition integration.
Are you ready for a healthcheck review?
VIEW OUR PROGRAMME HEALTHCHECK VIDEO
Chris Charlton is a partner at Global PMI Partners, an M&A integration consulting firm that helps mid-market companies around the world bring their operational, technical and cultural differences into alignment. Global PMI Partners has a reputation for delivering exceptional consistency, speed & customized execution on the complex operational, technical and cultural issues that are so critical to M&A success.