---
---
---
---
---
---
---
---
---
---
---
---
---
Private Equity & Venture Capital
---
At Global PMI Partners we work with clients across many industry sectors. Our approach to consulting necessarily requires teamwork and collaboration with you because we believe that no one external knows your industry or your business like you do. However, private equity and venture capital trends and specifics do impact M&A strategy and execution which vary from other industries. We understand these and bring lessons, customized solutions and proven experience from other private equity and venture capital M&A deals.
Industry trends
Funds available – strong capacity to invest (cash-in and new funds in 2017)

Opportunities for consolidation due to technological or other market disruptions

Increased competition for targets driving up valuations

PE firms need to create a distinct brand, approach and history to attract targets

Value creation depends more and more on operational improvements

Increased risks to value creation due to higher valuations

Opportunities to create value across all sectors – case-by-case analysis required

Unit economics analysis – life time value of customer

Development of international franchises and investment capabilities

Development of Chinese investment funds

Corporate Ventures (CVC) more and more active

Time to revenue (positive cash flow) focus

Global political uncertainty and market instability
M&A trends
More cross-border M&A

Acquisitions of corporate subsidiaries – carve-outs from major groups

More auctions meaning limited due diligence, quicker processes and more risks

Being the 2nd or 3rd Private Equity owner

More complex deal structures

Private Equity value chain is evolving to best-of-breed (fundraising, capital structuring, advisors, …)

Need for Private Equity firms to develop and demonstrate their own successful acquisition history to portfolio company management teams

Opportunistic acquisitions based on quickly moving political, regulatory, central bank, FX and market changes

Increased focus on operational improvement and specialist interims / consultants to ensure synergies and other deal objectives are realized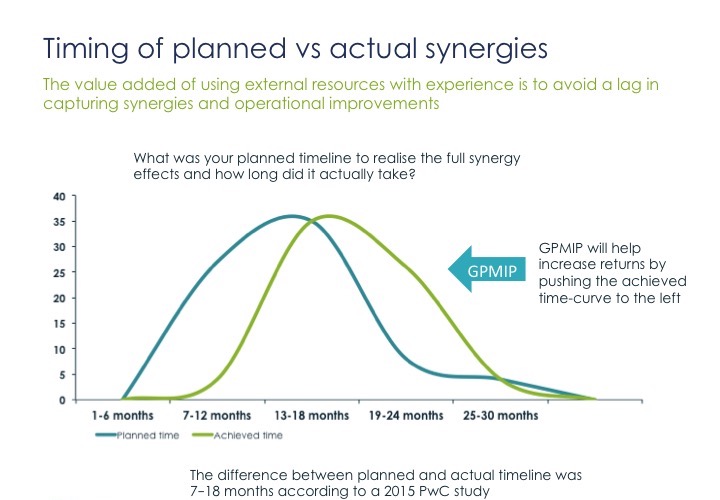 ---
PMI challenges specific to this sector
Increased PE management intervention in operations to support portfolio company management through in-house our outsourced Operations Directors.M&A and PMI capabilities in the firms owned – training, playbooks, …
Integration of carved-out assets (Due diligence, transitional services, interim management, organization design, recruitment, …)
Each deal is specific
More competencies on M&A than on PMI
Bandwidth and experience of portfolio management stretched: 100-day plan execution, new strategy analysis, add-on acquisitions, …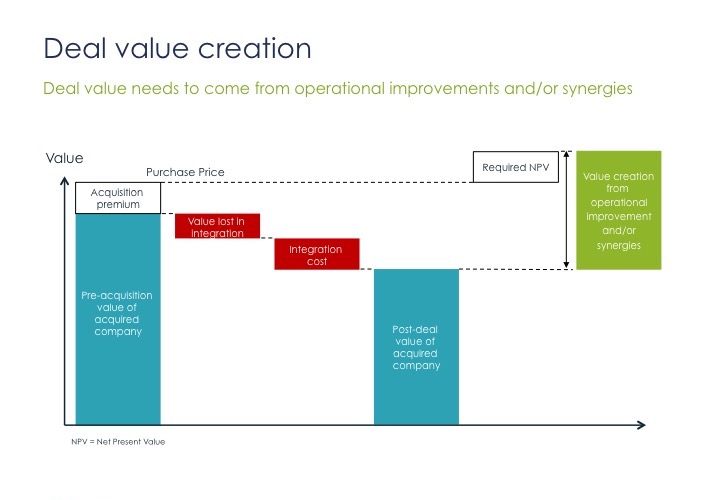 Services for Private Equity firms
Global PMI Partners offers a range of services to PE firms and the management teams of PE-owned businesses in Europe and the US.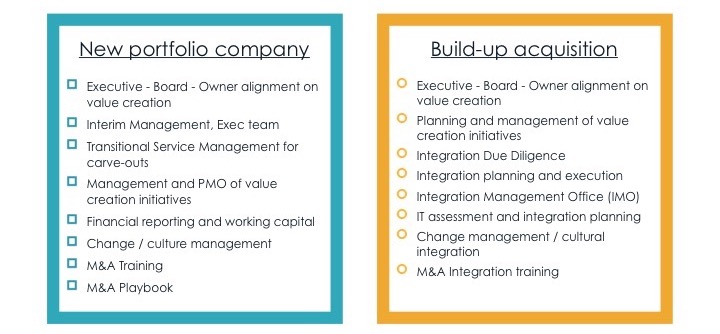 All of our services centre around, and build upon, our M&A expertise.
How we can help
Training and mentoring of key people in the different participations owned
Customized playbook and build-up strategy support tools
Integration DD and PMI support in a build-up context
Integration DD and implementation support for a carved-out acquisition
Reorganization – merger between PE's and funds
Support and manage 100-day planning & execution of operational improvements
Outsourced Operations Director
Interim management
Support building PE profile by building build-up and PMI capabilities
Why we are the right solution for you
Global PMI Partners is building long-term relationships with Private Equity firms (who recommend us to their portfolio companies) because:
PE firms want proven and trusted M&A integration expertise on demand
Our business model is suited to mid-size PE transactions (flexible, low structure costs)
We have a global presence and local expertise (language, cultural, regulatory, etc)
Cross-functional expertise covers all workstreams from analysis to implementation
Strategic C-level consultants equally happy to get hands-on
We work collaboratively with management teams, PEs, and other advisors
We provide the perfect deal-specific team every time
Faster implementation of operational improvements and synergies through focus, structure and Global PMI Partners methods and tools
We help you improve valuations of portfolio company through developing a successful acquisition track record
---
---