M&A Solutions for the Technology Sector
---
---
---
---
---
---
---
---
---
---
---
---
---
---
Industries + Sectors
---
At Global PMI Partners we work with clients across many industry sectors. Our approach to consulting necessarily requires teamwork and collaboration with you because we believe that no one external knows your industry or your business like you do. However, technology trends and specifics do impact M&A strategy and execution which vary from other industries. We understand these and bring lessons, customized solutions and proven experience from other technology M&A deals.
Industry trends
The sector is so quickly expanding and revolutionizing others that it can be hard to define its boundaries, but there are key themes at the frontier of tech innovation that excite investors, entrepreneurs and consumers alike.
The Internet of Things (IOT), connectivity and Smart Home tech – the market is wide open today so company choices, leading products' dominance and/or collaboration will define standards and consumer expectations of what this experience will look like
The on-demand economy, enabled by technology, isn't mature yet and the 'share don't own' ethos is likely to keep growing
Automation and robotic technology far beyond manufacturing is enhancing productivity and challenging cost models – early adoption is risk and at the same time a huge opportunity
Use of big data in qualitative ways is still a challenge – we have the data but mining, analyzing and presenting it well isn't perfected.
Tech regulation and laws, from autonomous cars and private space exploration to national security and social media, will impact all of us
Augmented reality (AR) and virtual reality (VR) are turning from fantasy to reality, with the market potentially enormous
Artificial intelligence and machine learning hasn't moved from research into application yet – it's going to be exciting to see
M&A trends
Technology has been one of the most active M&A sectors for many years. 2016 was another record year for acquisitions, with everything from start-ups to mega deals, but tech divestitures were rarer recently.
Rapid pace of technology change and development means quicker deals, sometimes with higher levels of risk or uncertainty
High proportion of cross-border M&A in technology sector
Particularly high interest in intelligent transport, healthcare IT, cloud-based apps, social media, gaming, semiconductor, and advertising technologies
Intense competition for start-ups by tech giants looking to differentiate their respective ecosystems is driving up prices
EBITDA multiples often don't start to tell the story of a tech company's value (which can be difficult to set or justify)
Pure talent acquisitions are common, where products and brand may be discarded
Upcoming uncertainty and opportunity as potentially lower US corporate tax rates, repatriation of foreign cash and trade tariff changes are understood
Tech deal types
Tech deals can be summarized into 4 categories: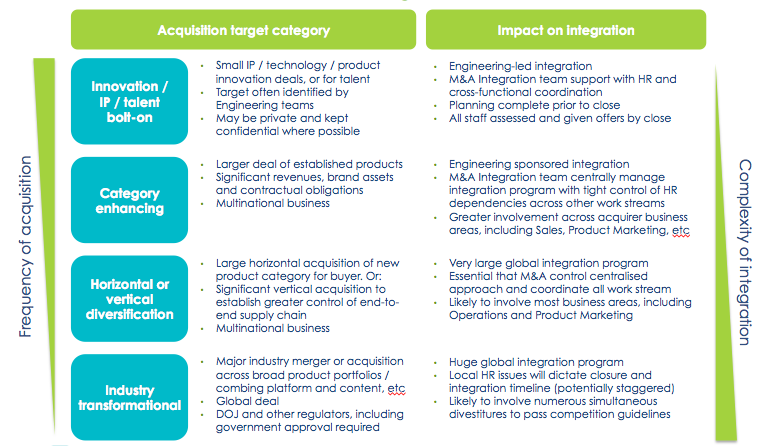 ---
PMI challenges specific to this sector
Serial acquirers have integration expertise but not local to targets (geographic and cultural distance). Often product rather than business focus
Confidential deals common, requiring specific integration approach
Deal rationale often unrelated to 1-2 year synergies. Instead, long-term product roadmap, IP or pure talent acquisitions require distinct integration approach
Retention of key entrepreneurial or engineering talent hard yet of paramount importance
Large transaction values may still be small teams with little operational maturity (finances etc)
Global PMI Partners can be your on-demand international integration team
We have the largest and most experienced global network of acquisition integration consultants and create the perfect team for every program, sourcing experienced Partners and/or associates with sector, competency, language or other skills and experience
You can turn us on very quickly – we are an on-demand service that is ready to go
We have a global presence and local expertise (language, cultural, regulatory, etc)
Extensive experience within the technology sector, with cultural fit and the right attitude
Our business model is suited to complement in-house teams (we are flexible with low structure costs and high value)
We build long-term relationships with our clients who we get to know, trust us and ask us to come back for the next integration
We are all experienced M&A integration professionals so we get up to speed quickly. We don't use junior consultants that don't add value. Small teams, low profile
We work with (and can coordinate for you) your in-house team and 3rd parties, including the big strategy and consulting firms
We're entrepreneurs at heart too, disrupting the established consulting market with an innovative 'knowledge economy' business model. Our customers love it.
Global PMI Partners specific value prop
International company with local presence and expertise
On-demand resources can supplement in-house teams
Very experienced consultants only, small teams
Cross-functional expertise covering most workstreams
Hands-on approach, embedded within client teams
---
---