At Global PMI Partners, we provide expert, on-demand consultancy services and resources to our corporate and P/E clients. With a track record of over 400 integration, divestment and restructuring projects utilising our global team of 200 seasoned professionals, we are adept at helping our clients achieve the desired value from both acquisition and divestment strategies. We have significant experience working with clients in all industry sectors.
We are leaders in the provision and resourcing of Integration and Carve Out Programmes; as well providing on-demand expertise and capabilities to support you, wherever required, in any of your key functional workstreams, such as strategy, operating model, sales, marketing, product, technology, finance, HR, comms, supply chain, etc. All of our highly experienced team members are well used to being embedded within our clients' teams.
Further, we also provide a range of specific M&A services tailored to the unique needs of our clients, including one-day executive workshops, health checks (ensuring your integration or divestment projects are set up for success), and diagnostics (e.g. maximising value from previous acquisitions).
Please see attached our Global PMI Partners UK Services Guide for more information: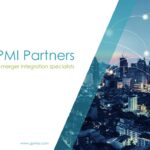 ---
WE CONSULT DIFFERENTLY
We are a global management consultancy focused on post-merger integration, with a significant presence in the UK where the company was co-founded. We believe that deep M&A experience is more valuable to clients than a large team, we take pride in working with internal teams to transfer our knowledge and we act as your on-demand M&A team.
---