Aerospace & Defence – 2021 and beyond
Creating value through M&A
By Hauke Moje, Global PMI Partners
---
Covid-19 is not the cause of, but the catalyst for profound changes in the global Aerospace & Defence (A&D) industry. The 2020 external shock caused sales figures in aerospace (and also automotive) to plummet, and has forced companies to stop cash bleeds, raise fresh capital and re-assess their business model.
The transformation of global Aerospace & Defence has just begun – carving out non-profitable businesses and strengthening core portfolios through Mergers & Acquisitions (M&A) in the more stable and attractive defence sector.
In order to generate value from any transaction, industry-specific requirements safeguarding intellectual property in a highly sensitive area must be observed. Thus, managing the post-merger integration with the right balance of speed and security is key to success.
1. The time for M&A is now – some early 2021 observations
Cash bleeding
Shockwaves distressing the Aerospace industry are mainly triggered by the current crisis in civil aviation. The Covid-19-induced collapse of global travel severely affected the business of global aircraft manufacturers. Airbus and Boeing had to accept order deferrals causing production cuts for up to 40%. Despite the recent improvement in the US travel market, aircraft around the world will remain idle on the ground for some time yet.
Even when demand returns, money-losing airlines will keep burning cash as they pay off Covid debt. That debt was up by some 20% for the 50 biggest listed carriers since 2019, limiting their ability to invest in new aircraft for future growth – a depressing perspective for the Aerospace industry. Automotive suppliers are faced with comparable challenges as Covid-19 has accelerated structural changes leading to a severe crisis in that industry.
Raising capital
Access to fresh capital is key, however proves not always to be an easy option for A&D firms under the current conditions. Some examples from early 2021:
Leonardo recently had to postpone the IPO of its US electronics unit DRS as the adverse market conditions did not allow an adequate valuation. The firm expected to raise up to $800 million which would have been used to lower debt and fund further acquisitions, as it is now acquiring a 25,1% stake in Hensoldt (see also below);
Rolls-Royce is seeking to raise more than 2 billion pounds from asset disposals. As part of the plan, the manufacturer announced to divest its Spanish aircraft equipment supplier ITP Aero (which was just confirmed as the Spanish partner in the FCAS propulsion project);
AKKA succeeded in raising fresh capital from CNP, creating a financial platform to offset 2020 losses and for strategic moves.
Consequences for M&A
It is no surprise that A&D firms have publicly declared to divest non-core businesses. Companies predominantly weighted towards civil aviation and CO2-emission-heavy automotive suppliers are selling cash burners to stabilize and readjust their portfolio.
Rheinmetall intends to decrease its dependence on the automotive industry – announcing as a first step the divestiture of its piston business and focusing on its profitable and growing defence business units.
The Aerospace & Defence industry appears to be a buyers' market with lively market dynamics propelling M&A. A global analysis of deal activities from November 2020 to Q1 2021 reveals some 150 transactions involving A&D firms as either acquirer, target or seller. Perhaps not surprisingly for the sector, only a third of these are cross-border (very often involving European firms), whereas especially in North America and the Far East, domestic transactions dominate the picture. Most deals are strategically motivated, with three quarters being industry buyers, and one quarter pure financial investments of PE-firms.
Global Aerospace & Defence transactions
(deals Nov 2020 – March 2021)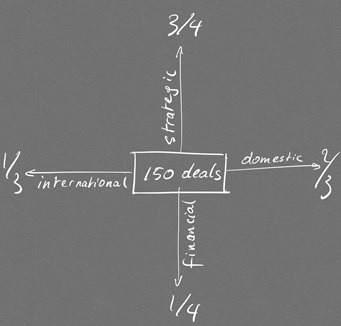 Some observations:
Frequentis from Austria acquires the Air Traffic Management business of L3 Harris Technologies in North America, Australia and Germany– improving its global customer access;
The US-technology firm Cognizant just announced the take-over of ESG ́s Mobility unit – expanding its automotive engineering expertise. Meanwhile ESG concentrates its portfolio further on defence;
Elbit from Israel signs an agreement with Cerberus to take over Sparton Corporation, a US tier one supplier of electronic systems supporting undersea warfare;
Lumibird from France acquires the laser range finder business from Saab
Leonardo, Italy acquires a 25.1% stake in Hensoldt, Germany for approx. 606 million euros, to enhance its position in the growing defence electronic market.
The motivations on the sellers' side are obvious:
the sale of financial investments after a holding period;
the carve-out of a business which is no longer considered to contribute positively to the own portfolio, a new owner might make it more profitable.
Acquirers may be looking for:
establishing bridgeheads to regions, markets and clients;
strengthening their control over the value-chain;
creating synergies from scope and scale.
The pattern we perceive behind this activity is the search for crucial technological capabilities. It is one of the principal drivers of the transaction dynamics in global Aerospace & Defence.
2. Pursuing access to capabilities propels transaction dynamics
"I propose to consider the question, 'Can machines think?'
Alan Turing 19501)
Defence as a safe haven?
Know-how transfer in A&D is not a one-way road. There is a continuous technology transfer from military to civilian applications and vice versa (think human augmentation and head-up displays). Beyond that, we now observe a strategic portfolio migration from civil markets to the defence sector, as defence is considered to be more resilient during times of crisis.
A prudent move perhaps, but there is bound to be some short-term volatility in the defence market as well, especially in continental Europe.
The German government announced a €42bn cut in its defence budget to 2025 to offset Covid-19 expenditures, endangering 15 major procurement programs;
The British Defence Command Paper contrasts with a more balanced approach, realigning its defence expenditures with a focus on strategic domains such as sea, air, space, and cyber, whilst cutting land-based platform programs.
Globally, the trend of increasing defence expenditure will last – driven by both concealed and open conflicts, in an arc reaching from Eastern Europe over the Middle East to the Pacific. Based on figures from Research & Market2), the global defence budget is expected to grow from USD 1.8 trillion last year to 2.3 trillion in 2028, i.e. a CAGR of 3%.
In short: strengthening the position in the defence sector can be the right step to go.
Searching for crucial capabilities
To commercially succeed in the defence market, the industry will support the digital transformation of the armed forces – integrating platforms as effectors (including Cyber and Electromagnetic Spectrum Operations (EMSO) as non- kinetic alternatives) with sensors and C4ISR capabilities to Multi-Domain Battlefield Management Systems.
The strategic rationale is clear: enforcing superiority in present and future military conflicts. Success depends on managing the OODA loop (Observe, Orient, Decide, Act) with cross-domain situational awareness needing to be faster and more effective than any opponent's. New rules of the game add further complexity for the military decision-maker on all levels:
Hybrid warfare as game changer: while Clausewitz talks about the fog of war, hybrid warfare has added "50 shades of grey" to the theatre.
The European Centre of Excellence for Countering Hybrid Threats, Helsinki, defines hybrid action as "characterized by ambiguity, as hybrid actors blur the usual borders of international politics and operate in the interfaces between external and internal, legal and illegal, and peace and war. The ambiguity is created by combining conventional and unconventional means – disinformation and interference in political debate or elections, critical infrastructure disturbances or attacks, cyber operations, different forms of criminal activities and, finally, an asymmetric use of military means and warfare. By using the aforementioned unconventional and conventional means in concert, hybrid actors veil their action in vagueness and ambiguity, complicating attribution and response. The use of different intermediaries – or proxy actors – supports the achievement of these goals. Hybrid action is cost-effective as it turns the vulnerabilities of the target into a direct strength for the hybrid actor. This makes hybrid action more difficult to prevent or respond to."3)
Lessons learnt from 2020 Nagorno-Karabakh war: networks matter!
Azerbaijan prevailed against Armenia, an apparently superior opponent, by linking drones as a new form of sensor with both traditional and innovative effectors (artillery and ballistic missiles) to create highly effective networks that neutralized Armenia´s armoured, mechanized, and motorized formations. Europe and NATO are already carefully analysing the military lessons from this conflict.4)
"We need defensive systems that protect our troops against such attacks. We have to close this skill gap quickly." (German Inspector General Eberhard Zorn, January 2021).
Moving from platforms to systems:
In these scenarios, non-integrated platforms will hardly gain or quickly lose their competitive advantage, both on the battlefield and in the market place.
To be successful in this decade, any effective A&D portfolio strategy will need to integrate (1) innovative technology platforms with (2) state-of-the-art multi-domain applications to (3) fuse sensors with effectors and Command & Control (C2) to highly effective/superior networks.
Our A&D Capability Matrix provides clear guidance to explore crucial capabilities in these three dimensions: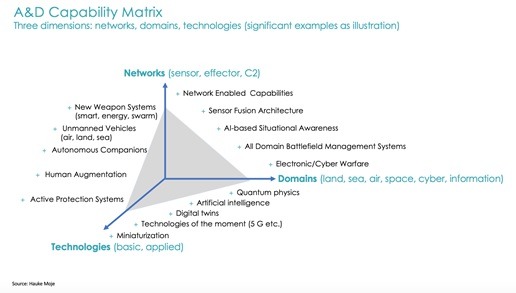 The success of digital transformation will be decided at the sharp end of the latest, AI-based capabilities.
The British Defence Command Paper from March, 2021 requires "Strategic Command, through Defence Digital will help by:
developing our IT and communications systems or our digital backbone;
creating an artificial intelligence centre of excellence, as part of a wider digital foundry initiative;
growing our classified IT through the development of secret cloud technology".
Experts foresee Emergent and Disruptive Technologies (EDT) "to enable networks of sensors and effectors to vastly accelerate the cycle of target detection, evaluation, decision-making and action. They will radically change warfare once again:
Artificial intelligence as an innovation driver: AI is the key technology enabling military applications on tactical to strategic level;
Technologies of the moment, esp. 5G and space technologies as prerequisite for additive manufacturing, autonomous systems, IoT and others;
Cyber everywhere, as the domain linking all other domains;
Autonomous companions, relying basically on AI, sensors, and robotics creating a full range of assets, from highly sophisticated autonomous systems to low-cost drones (see report on Nagorno-Karabakh above);
Quantum physics as the next wave of disruption: acting as an accelerator for nano-, bio-, cyber- and encryption technologies". 5)
Undercurrent
An M&A undercurrent in the industry can be observed searching for these specific technologies. The A&D portfolio strategy has to follow the logic of creating highly effective Joint All Domain Command & Control systems, providing either its AI-backbone and/or crucial edge elements.
The entrepreneurial foresight to identify and acquire defence companies with these scarce capabilities is one precondition for a successful transaction. However, the art of integrating that target determines the value from the acquisition.
3. Generating value from transactions: Global PMI Partners' approach
Creating value from acquisitions means to generate synergies which are higher than the acquisition premium (the price paid beyond the stand-alone value of the target). So, the arithmetic of post-merger integration (PMI) is easy, the challenging part is its implementation.
In acquisitions, speed matters, and so does having a plan
Global PMI Partners deliver worldwide market-relevant advice to clients who want to build lasting domestic and cross-border businesses. We are senior-level consultants, who deliver services at a higher standard, with greater consistency and more cost- effectively than a mixed team of trainees and experienced professionals.
Our integration, carve-out and M&A capabilities services address the complex and interrelated issues that are critical to M&A success.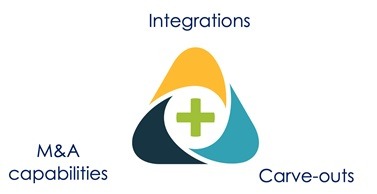 Visit www.GPMIP.com for further reading.
Global PMI Partners' approach is founded on the collective experience from a thousand transactions across dozens of industries, including Aerospace & Defence.
Why market leading companies choose us as their PMI consultant:
Thought Leadership
IMO Mobilization has been successfully deployed on hundreds of engagements
GPMIP Partners are recognized thought leaders in all core M&A products & services
Continuous improvement approach to finding solutions to people, process & technological integration challenges:
Scalable & Flexible Operating Model
Flexible, on-demand expertise & capabilities, covering all functions/sectors and with ability to mobilize quickly;
Highly competitive pricing;
Consistently repeatable approach, with pre-populated tools and templates, easily customizable for most client scenarios & transaction types.
Client Delivery Teams with excellent track records
GPMIP only deploys hands-on, experienced experts and specialists with proven track records within chosen M&A capabilities;
Continuous investment in training on our market-leading approaches;
Majority of business is repeat and/or referred by highly satisfied clients.
This enables us to be the M&A integration consulting firm that helps mid-market companies around the world by delivering exceptional consistency, speed, and customized execution on complex operational, technical and cultural issues.
Summary
Dynamics in the Aerospace & Defence will offer attractive growth opportunities. We command the A&D-specific success factors for transactions, especially those resulting from clearance requirements and defence-related governmental regulations. Acquiring the right target and managing the implementation with the precise balance of speed and security creates superior value.
About the author
Hauke Moje is Senior Executive Advisor at Global PMI Partners in the DACH-Region (Germany, Austria, Switzerland), focusing as PMI expert on transaction strategy, synergy management and business process integration. He has been leading projects in Germany, Europe and the Americas. Hauke belongs to our global Aerospace & Defence team with specific competences in areas such as situational awareness and network -centred operations in 21st century scenarios, including hybrid warfare.
Global PMI Partners, an M&A integration consulting firm that helps mid-market companies around the world by delivering exceptional consistency, speed, and customized execution on the complex operational, technical and cultural issues that are so critical to M&A success.
Read more about our Leadership Team
Footnotes:
1 Alan Turing: Computing Machinery and Intelligence, 1950
2 Research and Markets: The Global Defence Budget Analysis – Forecast to 2028, May 2020
3 The European Centre of Excellence for Countering Hybrid Threats, website
4 Gustav Gressel, European Council on Foreign Relations, November 2020
5 Ralph Thiele: Turning the Tide, January 2021