M&A Trends in the Global Professional Services Industry
By Walter Gilligan, Senior Executive Advisor, Global PMI Partners
The Global Professional Services Industry continues to experience high organic growth and a significant volume of M&A. This article will explore the recent industry trends contributing to the high volume of M&A activity.
The Professional Services market consists of the sales of professional services and related goods by entities (organizations, sole traders and partnerships) that offer services and provide support to businesses of all sizes, in all industries, and to individuals and institutions, in processes where human capital is the major input. Professional services establishments make available the knowledge and skills of their employees, often on an assignment basis, where an individual or team is responsible for the delivery of services to the client.
According to The Business Research Company, Global Professional Services is expected to grow from $6.04 trillion in 2021 to $6.69 trillion in 2022 at a compound annual growth rate (CAGR) of 10.9%. The market is expected to reach $9.7 trillion in 2026 at a CAGR of 9.6% In terms of geographic distribution, North America is the largest region in the professional services market in 2021. Western Europe was the second largest region in the professional services market. (1)
A market sector breakdown and several representative public companies per sector include the following:
Business Process Outsourcing (Cognizant, Genpact)
Diversified Data & Information Services (Thomson Reuters)
Data & Information Services: Financial & Media (Gartner, Moody's)
HR Staffing & Professional Services (Korn Ferry, Marsh & McLennan)
Human Resource Outsourcing (ADP, Willis Towers, Watson)
IT Consulting Solutions (Accenture, DXC, Infosys)
Specialty Consulting (Omnicom, WPP, Booz Allen Hamilton, FTI Consulting)
In addition, there are many private Professional Services companies that span across these sub-sectors including the "Big 4" accounting firms (Deloitte, EY, PwC, and KPMG) as well as private firms in advertising, architecture, engineering, and legal services.
It's a big and growing market. It's also rapidly evolving due to the application of new technologies.
Professional Services M&A Drivers:
Both private and public companies in the Professional Services industry have turned to M&A as their in-organic lever of choice to help meet growth challenges. In addition, Private Equity firms have recently become more active in the Professional Services market. The strategic rationale for acquisitions in the industry can be summarized into three generic strategies which have been in play for some time.
Excess demand for emerging technology skills (e.g., Digital, Cloud, AI, ESG)
Growth opportunities in new verticals or new geographies
Growth opportunities at the intersection of digital & traditional services (e.g., Platform plays)
A recent study published in 2022 by the Academy of Strategic Management Journal interviewed industry participants who offered up the following reflections about M&A in Professional Services. (2)
"The only way to grow is to add more people, as long as your business model relies on selling hours. So, if you're losing 10 percent or 15 percent of your people per year, you have to hire 10 percent or 15 percent to break even. (If) you want to grow at 10 percent or 15 percent per year; you've got to hire 30 percent new staff per year, which is practically impossible, particularly for larger firms, given the current 'war for talent.' So, at some level (M&A is) the only way you maintain high growth rates as a firm becomes larger." – Industry Management Consultant
"You want to make (the smaller firm) acquisitions and then integrate them as quickly as you can without breaking what you just acquired. And so, the philosophy is one of how quick can we effectively integrate versus spending the time to be more thoughtful, (which may be needed for) a much more complicated integration." – Former Industry CEO and Board Member on Acquiring Smaller Companies
"Everybody worries about systems…but I think the thing that is really not seen is the people issues…the failure really is on the cultural integration side. People are not replaceable. it's part of our value system, I've got to treat you with dignity…especially in this business, with anybody you meet, could be our client tomorrow." – Industry CEO Who Had Been Part of an Acquired Firm
"They (PE firms) really didn't know about our industry and didn't know how well it fits with their general thesis, which is that they want low-risk, stable industries, and companies. Discovering that we (have) as an industry (which) tends to have stable returns albeit somewhat lower than other industries, we were more stable than a lot of other industries. So, we were very attractive because of that. Their objective is that they want to increase EBITDA over their holding period by double or even triple. And, to do that, you can't do it organically." – Industry CEO/Board Member:
Professional Services M&A Deals: (3)
A look back at the 5-year history of Global Professional Services M&A market reveals ~5,000 transactions per year with an average annual spend of $225 billion per year. In 2021, 5,784 deals were consummated with $278 billion of spend. According to Pitchbook, total Global M&A spend in 2021 tallied $4.9 trillion with 38,231 transactions, a historic level of M&A. (4) The Professional Services segment comes in ~6% of the total Global M&A $ spend and 15% of the Global M&A transactions count.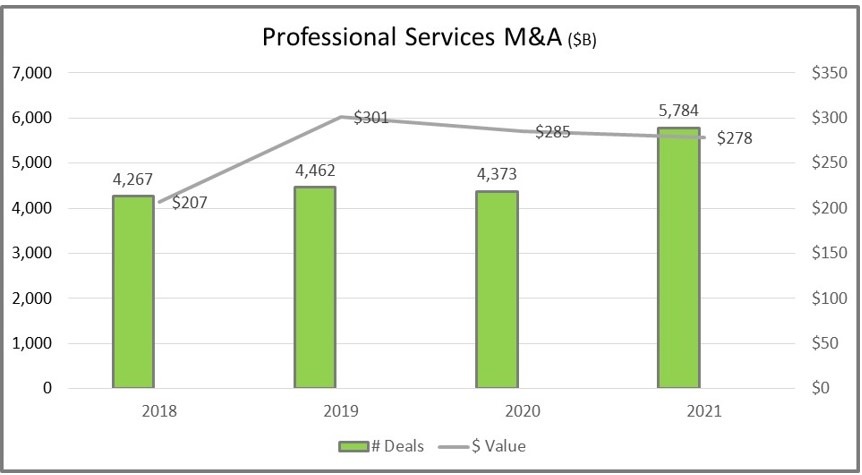 A snapshot of Q4 2021 market activity in the Professional Services M&A US middle market shows activity across public companies and private equity firms: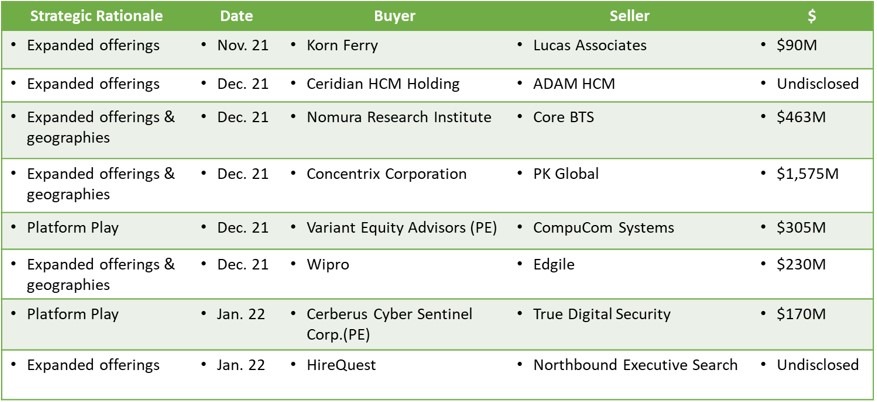 Professional Services M&A Success Factors:
At professional merger integration firms like Global PMI Partners (GPMIP), it is recommended that Companies and PE firms operating in the Professional Services M&A arena follow a structured approach to their M&A and Integration activities. Characteristics of our approach include the following M&A Success Factors:
Business lead investment thesis.
Laser focus on the employee experience – people are your assets.
Highly curated change management and communications.
Experienced PMI quarterbacks to support projects.
Dedicated functional area SMEs on repeat basis.
Standard financial metrics and synergy tracking.
Experience has allowed firms like GPMIP to develop a keen sense for the typical challenges beyond the factors noted above:
Professional Services M&A Challenges:
Merging disparate cultures
Managing Leadership expectations and autonomy
Managing employee expectations
Driving synergies + maintaining the core business
Moving far away from the operational core
The professional tools and capabilities that a firm like GPMIP offers, enables both Corporate and Private Equity firms to increase their focus in Professional Services M&A. GPMIP helps build internal capabilities to support serial acquisition programs by offering project specific support for Integration Management, Communications, Change Management and SME specific support roles.
---
Notes:
1 – The Business Research Company, "Professional Services Global Market Report 2022", October 2022, page 2
2 – Academy of Strategic Management Journal, "Mergers & Acquisitions in Professional Services Firms, Getting Beyond the "Go Big or Go Home Approach", Volume 21, Issue 1, 2022
3 – KPMG Corporate Finance LLC, "Professional Services Market Update – Winter 2022", page 2-4
4 – Pitchbook, Global M&A Report 2021", page 4
---
Walt Gilligan is a Senior Executive Advisor with Global PMI Partner specializing in the Professional Services Industry. Prior to his role with GPMIP, Walt managed a $1B portfolio of companies being integrated by Accenture in North America. He has also advised the US Deloitte firm on how to improve its Integration Capability.
Global PMI Partners is a specialist consulting firm supporting our listed company and private equity clients with their growth strategies, M&A integrations and divestments, and transformation initiatives. We provide expert, on-demand M&A and transformation services and resources, leveraging our market leading approach & methodology.