Don't Send the Troops into the M&A Battle Unprepared!
By GPMIP Partner, Scott Whitaker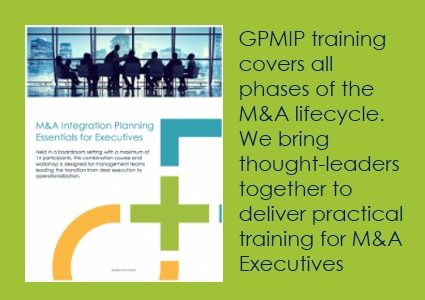 Companies often provide training for developing key skills like leadership, systems and technical knowledge, safety, compliance and a myriad of other needs based on their industry.
But when it comes to M&A integration, companies too often are content to let their best and brightest try to "wing it", and attempt to manage the complex process of integration without any formal training.
An M&A event is the one of the most intense and seemingly chaotic periods a company will ever experience, and managers have to wrestle with many factors such as:
Integration governance structures
Integration roles and responsibilities
Organization design
Synergy program management
IT and operating infrastructures
Employee, customer and key stakeholder communications
Tools and templates for managing complex integration projects
These are just a few of the key integration deliverables, as virtually everything is in flux during a full integration. Attempting to manage all this without any training on the basics of integration planning and execution is a sure way to under deliver on your deal's business objectives, and frustrate your best and brightest.
In addition to learning about best practices and proven methods on integration management, training can help leaders:
Quantify the integration challenge and the work required to execute well
Understand and recognize fundamental concepts and practices to help manage the most typical integration planning and execution scenarios
Establish a competency baseline for how to create a robust and sustainable integration practice for their organizations
Understand how to leverage essential tools and templates to expedite the process
Don't leave your people unprepared by neglecting this key step in the M&A process.
Scott Whitaker is a Partner of Global PMI Partners and has been involved in over two dozen mergers and acquisitions totaling nearly $100 billion in value. Industry experience includes healthcare, financial services, telecommunications, gaming, hospitality, chemicals, oil & gas, industrial manufacturing, retail and consumer durables. Scott is also an instructor for Global PMI Partners training sessions which are designed to help companies expand their M&A knowledge and Post-Merger Integration competency. Click here for a listing of upcoming training events across the US and Europe.
What has been your experience with M&A? Comment and "Like" this post on LinkedIn by clicking here.