Integration Diagnostic: Holding on to deal value
---
In M&A integration consulting there is a well-known statistic that in the region of 70% of deals fail to realise the planned deal value, an Integration Diagnostic can be a powerful tool deliver deal value that has been missed and provide the promised return on investment .
This can be for a variety of reasons from poorly planned and executed post-merger integration, to overly optimistic cost and revenue synergy targets or even just a simple lack of focus after deal completion.
If a merger goes well, the value of the new company increases as investors and the market see the anticipated synergies being realised through cost savings , improved operational efficiency and increased revenues. This can be due to the combined business either entering new markets, attaining new customers or products, or removing competitors from the marketplace. However, time and time again executives face the same major stumbling blocks after the deal is closed:
Cultural clashes, turf wars and tribal behaviours preventing integration plans from being properly designed and executed
Different systems and processes not being appropriately integrated or rationalised due to poor planning, funding or lack of a coherently articulated and shared vision and strategy for the future of the combined business
Overestimation of synergies or overly aggressive phasing target often combined with an underestimated view of the one-off costs needed to achieve them
A lack of understanding of the target firm's business or its current operational issues and both the capabilities and capacity of the management team to run an integration project without sufficient bandwidth and/or experienced external support
Ultimately, the critical issue underpinning the above is the leadership losing focus and clarity once the deal is signed, making the goal of achieving the desired objectives significantly more challenging. It is often further impacted by a failure to design and implement a concrete execution plan with a suitable governance framework and controls. It is this lack of establishing the necessary integration processes that lead to the failure of many M&A deals delivering full deal value.
ALL IS NOT LOST
The fact is that whilst many companies may not deliver the full anticipated deal value, they then assume that the opportunity to do so has been lost for good. This is not the case; many businesses have been able complete integration and realise significant missed deal value through the implementation of an Integration Diagnostic. This look back at historical transactions has been used to support businesses both to identify and to achieve deal value, after the deal has completed, and aligning to their current BAU (Business As Usual) operational roadmap.
The ability to conduct a thorough and honest retrospective of previous integration(s) is a key consideration for many corporate development teams and C-suite leaders as a tool to help them achieve that lost anticipated deal value or to help them find new cost reduction opportunities post deal to create value from their businesses that is not being maximised or implemented or where synergies identified during pre-deal were overly optimistic or simply not achievable against the background of BAU operational constraints.
This can also be a great tool for private equity firms looking to help portfolio company management teams, who have been on a buy-and-build strategy, to focus on the most significant value-driving projects in the final 6-12 months of a hold period, prior to exit.
FINDING THE LOST VALUE
An Integration Diagnostic is an assessment of the current level of integration across all or a subset of key business functions including an assessment of their functional maturity. The purpose of the activity is to fundamentally assess the opportunity to complete or improve the level of functional integration, create a roadmap to improve functional maturity, and ultimately identify opportunities to reduce cost or increase revenues through a transformational programme of work, with a clear governance framework and investment case to maximise ROI and fully realise the original deal synergies.
To achieve this, it is critical to understand what the original deal rationale(s) were so that a gap analysis can be undertaken to demonstrate where the business currently is, compared to where it originally hoped to be. This essential first step allows for the business leadership to define or redefine what its strategic vision and goals are, including cost and revenue synergy targets. This work may include confirming the Target Operating Model and organisational design, which can be a critical first step for any business looking to drive an operational change programme.
Against this backdrop, the individual business functions are assessed to understand how well they have currently achieved their integration against that vision and strategy and to what extent they have achieved their original cost or revenue targets.
During this assessment, opportunities can be identified for functions to either complete integration, improve functional maturity or to support other functions to achieve their synergies. Each opportunity should be assessed in terms of complexity, cost to implement and ROI to ensure that any project directly or indirectly returns real business value.
High-level synergy targets by workstream are identified and tracked back to each individual business cases and each project is tracked under a transformational governance framework to ensure that ROI and value anticipated in the business case is achieved and to ensure that both the cost and timeframe are controlled and to provide the senior leadership clear visibility on the status of the programme, costs and achievements to date and to allow them to retain a clear view of status and remove any blockers that may impede progress.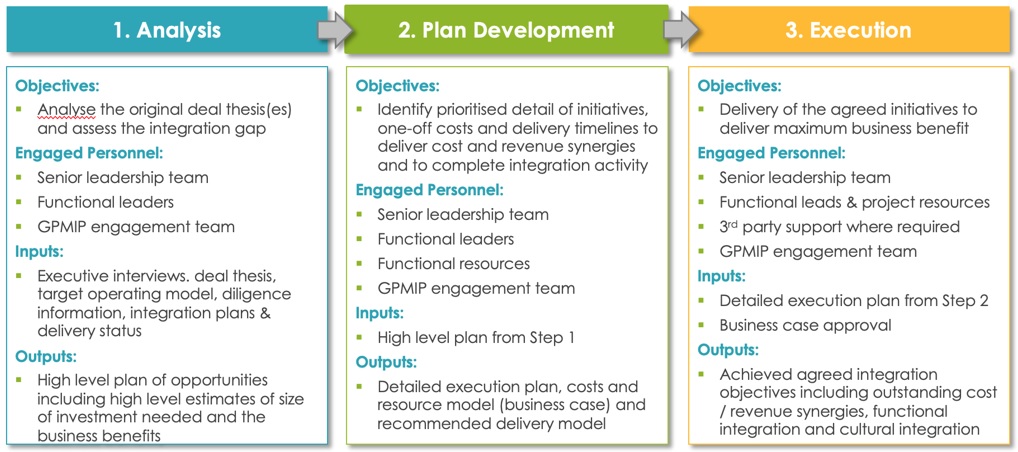 A good Integration Diagnostic is usually comprised of three phases:
1. Analysis: reviewing the current level of integration across acquisitions and maturity of each business function in scope and working to identify those key initiatives that will deliver cost reduction, value creation and maturity improvement with an order of magnitude assessment as to the size, cost and complexity to deliver and the anticipated business benefits.
The Global PMI Partners recommended approach to this Analysis Phase is:
the programme is sponsored by the CEO or CFO or both;
undertaken by a small team of senior expert M&A practitioners in conjunctions with the heads of business function;
is time bound and typically conducted in c.2-4 weeks; and
provides as an output a detailed summary of current issues and opportunities and a high-level view of cost to implement and a plan on a page view of the delivery schedule for the transformational roadmap required to deliver the remaining integration tasks and realise the anticipated value drivers
2. Plan Development: a more detailed planning and assessment of those initiatives that will give the greatest return on investment in the shortest time – to ensure clarity on the scope of work, one of costs and potential impact to the business
This includes detailed planning and costing of each project in each functional area, including business case development, so that the business can fully assess business benefit, costs and timeframe. The whole purpose of this exercise is to be able to prioritise the most value-adding projects across all businesses and functions within a specified timeframe, such as 6, 12 or 18 months
3. Plan Execution: where an approved execution plan is implemented through a robust governance model with accurate and detailed reporting against the original business case. This will ensure the successful delivery of the programme and drive through the changes needed to realise the original deal value aligned to the deal thesis, complete integration and ultimately increase the valuation of the business
SO WHY CAN INTEGRATIONS UNDER-DELIVER?
We often see the same reasons time and again for a deal not achieving the anticipated results.
Here are some of the repeat offenders:
Rationale of the deal is not fully aligned at a senior level and not communicated to the wider business functional leaders consistently.
Insufficient funding for execution post close for one off costs.
Governance, sponsorship, and leadership of the integration not clearly defined.
Resources not made available or at full capacity on BAU.
Skills and experience not available internally.
Not enough focus or sponsorship from the C-suite.
Complexity of integration not fully understood; and
Technology impact not clearly understood or the risks of implementing technology change too quickly not clearly communicated.
REDISCOVER & HOLD ON TO YOUR DEAL VALUE
The Global PMI Partners Integration Diagnostic service provides insight into the level of value delivered from previous acquisitions, identifies the areas of the combined business that have value still to deliver and prioritises key integration tasks still needed to find and deliver the lost value of the original deal(s).
At GPMIP we have supported many clients in identifying key areas of integration still to be completed as well as reviewing the level of maturity within their business functions and identifying key initiatives that could give them the biggest return on their investments.
The Global PMI Partners team review historical and current transactions to assess the current level of integration across your business. An assessment of the operational maturity of each business function in terms of integrated performance is also undertaken. An assessment of the level of value delivered from the transaction(s) to date against the original deal thesis drives the gap analysis of remaining work and opportunities for value to be realised and in order to deliver maximum business benefit.
Global PMI Partners have a team of 300+ seasoned and expert M&A practitioners who can help you discover and deliver the lost value from your integration transactions. We have supported clients on over 1000 transaction globally and if you find yourself in this position we would be delighted to have an initial call with you to discuss how we help you.
You can also download our most recent Survey Report, 'The Art of Successfully Delivering M&A Value', https://gpmip.com/2021-ma-industry-survey/. The report looks at each stage of the deal lifecycle, drawing on the wealth of M&A experience of respondents from all industry sectors and business functions, M&A roles, levels of seniority and of course geographical base. Key insights have been developed from successful M&A projects and focus on those areas deemed to be the most significant to underpin the reliable delivery of value.
Mark Bevan is a Partner for Global PMI Partners based in the UK and sits as part of the global leadership team. Mark has worked in different global geographies across a range of sectors including Financial Services, Logistics, Aviation, Technology, Media, Telecommunications and Insurance, supporting his clients on their merger, acquisition and carve-out transactions. He previously worked for Deloitte's Financial Advisory – Post Merger Integration practice in London and has had an extensive career working for blue chip organisations such as the BBC, Capgemini and DXC.
Steve Taylor is an Associate for Global PMI Partners based in the UK and has worked for multiple clients across sectors including Consumer Products & Retail, Financial Services, Technology, Transport, Oil and Gas and Utilities. He has worked for systems integrator Capgemini as well as household names which include Lloyds Banking Group, ASDA, IBM, Sopra-Steria, British Airways and British Gas. Steve has worked on multiple engagements for GPMIP including Integration Diagnostics.