The Guide to M&A Integration Software Tools
By Global PMI Partners
---
Clients often ask us which integration strategy software or tools we recommend to manage merger and acquisition (M&A) integration and carve-out programs. There are many products available to support M&A processes and project management disciplines, but are there any tools specific to acquisition integration planning and if so, which is the best?
It's a great question but the answer isn't straightforward. Here's our guide to available options, points to consider, and how to choose the best one for your organization.
First, consider these common risks:
Tools with a comprehensive list of features but non-core functionality which is inferior to basic tools
Duplication of functionality provided by other enterprise tools (and confusion)
Learning curve of staff resulting in only partial adoption of the new tool
Pre-loaded methods, tools and templates which are not world class
Limited configuration to meet your own methodology or approach
Full and transparent pricing
Tie-ins to other software or on-going costs
Despite a crowded M&A software landscape, there are no tools focused specifically and exclusively on managing Acquisition Integration programs.
If you are looking for software to manage your entire M&A lifecycle, then you should start by looking at the products in the center of the provided M&A Software Map below.
If your organization is focused more on pipeline management or data rooms, then products on the left, such as Merrill and Sterling, provide numerous options.
If you want a project management tool that everyone is licensed and trained to use, or prefer to rely on the traditional 'document and email' based approach to integrations, then products in the bottom right should be considered. The advantage of these agnostic tools is that they cut down on software proliferation and shadow IT.
The empty upper right quadrant points to a gap that we could see filled through future innovation by existing vendors, or new entrants, focused on the specific needs of today's M&A integration leaders.
At the end of the day, these software products are merely tools that support a more efficient integration program and better reporting. How you manage the integration, mitigate risks and deliver the objectives of the deal are not (and cannot be) determined by any tool. The complex parts of your integration are specific, not generic, so the experience and capabilities of the leadership and program teams are far more impactful than your software choice.
M&A Software Map
Gartner's Magic Quadrants provide trusted advice on major technology areas, but currently, there is no analysis to compare the functionality, pros and cons of Acquisition Integration Management Systems or even more general M&A Management Systems.
The focus of different software tools is generally determined by their origins, functionality and target customer. To help visualize the product positioning of the main software tools that are useful for acquisition integration, we've created a useful M&A Software Map.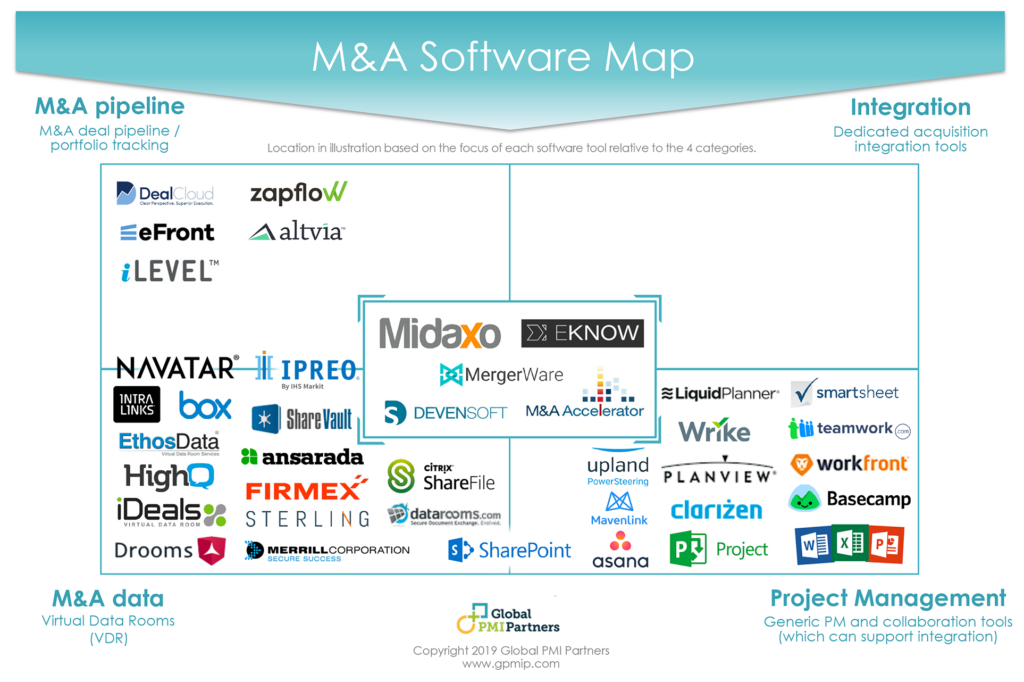 M&A software tools can broadly be categorized into:
M&A data – eRooms, often called Virtual Data Rooms (VDR) in an M&A context, are Document Management Systems and data repositories, with a focus on security and access controls to share sensitive data during the pre-deal
M&A deal pipeline and portfolio tracking – focused on monitoring and reporting across deals and across companies, these software platforms provide a broad overview of M&A and are generally aimed at Private Equity firms
Integration – software tailored to the needs of complex post-merger integration or acquisition integration programs, pre-configured to quickly and easily support M&A programs throughout the lifecycle of an integration
Project Management software tools – our favorite tools for managing projects and programs (including PPM in Gartner terminology). Some are local desktop applications that most are familiar with, while others come from the growing number of collaboration or Project Management products available online. This is not an all-inclusive list, but the category should not be overlooked
Bespoke systems –we have not included proprietary software tools which have been developed either by large acquirers purely for internal use and therefore not available or by large strategy and consulting firms as a loss-leader to substantial fee-paying consulting clients. We have worked with several of these in former consulting firms or as we've managed these consultancies for our clients. In general, the tools seem under-developed, dated and the functionally rigid. Furthermore, the consultancies themselves often don't use them.
Several vendors have extended the functionality of their tools from its original focus, moving from one corner towards the center of the M&A Software Map so that they can service customers looking for one broad M&A Management solution. The box in the center contains end-to-end M&A products. We are noticing some vendors and generic Project Management software are starting to create pre-populated M&A Management solutions as well.
Today, as the M&A Software Map illustrates, despite a crowded M&A software landscape, there are no software tools focused specifically and exclusively on managing Acquisition Integration programs.
Our Shortlist
Although none are purely built for our area of interest, M&A Integration, many generic software tools can do a great job.
Our Global PMI Partners team has worked on over 300 M&A programs and used many software tools over the years, both within companies and from a consulting perspective. We've tracked the leading software tools as they were launched and developed.
In the interests of our clients, we have a policy of being tool agnostic. We bring an objective and independent perspective to the decision over which system is appropriate for each client within the context of their M&A deal and approach.
Global PMI Partners chosen shortlist
Selection process
Once you've understood what is available and compared the leading products, the following question will help you choose the right software tool for M&A integration in your organization:
What do we need? Your organization (business and IT) should clarify what you primarily need to use the system for. It might be useful to think in terms of what problem/s you are trying to solve/avoid by adopting software.
What is the right scope? Defining what you are not going to use the system for is just as important. The functional breadth of any piece of software is usually a trade-off against the depth and specificity of functionality offered. The price and complexity to use will certainly be another factor.
Do we need the content as well as the system? Do you have your own integration methodology, document tools and templates that the system needs to be configured to? Some M&A tools have content pre-packaged (e.g. an Acquisition Integration Checklist), so if this is important to your organization make sure you assess the quality carefully. We recommend prioritizing spend on expertise rather than templates.
How will it work with existing systems and processes? To avoid duplication, consider existing interdependent processes and software within your business (e.g. does your CFO want your M&A Integration software to track synergies or is this well managed elsewhere?). Some software tools are highly configurable and you can hide tabs or modules to reduce confusion.
What is the cost? Consider your budget and how you like to procure software, taking into account your preferred hosting and servicing arrangements. Most M&A products are now Software-as-a-Service (SaaS) but have some flexibility. Some have different pricing bands based on scale and functionality.
Ease of setup and decommissioning? How important is a fast start? Can the tool be turned on immediately? How much configuration is required? Who owns this? Is the software going to be used on multiple integrations and if not, can you easily and securely extract all of your data?
We hope this guide furthers your due diligence for the integration software tools available. Need more information to choose the right software tool for your next integration project? Send us an email or call – we're happy to help!
Links to our shortlisted vendor websites:
Midaxo | eKnow | MergerWare | M&A Accelerator | Smartsheet | Teamwork
Have we missed anything on our M&A Software Map? Have you used one of these software products?
Email us about your experience or join the conversation on our LinkedIn Global Post-Merger Network